July 1, 2014 in Chemistry of Art
Molecules of Life and l'École de Manga Japonais de Montreal (The Montreal Manga School) teamed up to teach sixth grade students at Stanislas School in Montreal on the 15 of May 2014 about ink and inking.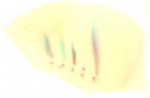 After receiving a brief introduction on the history of Manga by designer and manga artist Azusa Matsumoto, the students were instructed in the compositions of ink. Although some ink is water soluble and can be washed off with soap and water, others are not soluble in water, such as the Indian Ink used in making Manga. To see the difference between such inks, the students performed an experiment using paper chromatography and observed that their water-soluble markers gave spots which migrated up the paper and even separated into various colored components. On the other hand, the insoluble Indian ink spot stayed where it was first spotted, on the base line.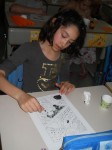 Warned on the challenges of washing off Indian ink, the students were next given opportunity to try different inking techniques commonly used by manga artists. In addition, they learned how to transfer images such that they could someday ink their own favorite cartoons.
Everyone was delighted to learn about manga and the composition of ink from experimenting with paper chromatography and inking techniques care of Molecule of Life and The Montreal Manga School.